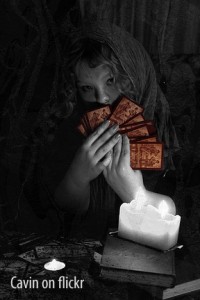 Submissions for Ignite Phoenix After Hours close tomorrow. The tickets sold out in one day, so let's face it: if your presentation makes the cut, you have a guaranteed captive audience. Let's see … what could you talk about?
How about the time you saw a tarot card reader in Vegas? She pulled the Death card. Once you got home, you locked yourself in your house for a week. Â Finally, one day, you turned on the news. A tarot card reader had been murdered in Vegas. Life went on as usual, but you still sometimes look back and expect to see her following you.
Or that time you survived New Orleans, Mardi Gras. Some girl kept feeding you test tube shots on Bourbon Street, until you lost your group of friends. You called your buddy, standing under that glowing Mango Mango neon sign. You told him, "I'm under the sign for Mango Mango!" He said, "I'm under the sign for Mango Mango!" That's when you realized, there was a Mango Mango sign on every corner.
I know you have it in ya! A bunch of brave souls have already come forward, bearing their best for an IPAH-hungry Phoenix. One gal wants to tell you how to be comfortable naked. A fellah is ready to share what high school teachers are REALLY thinking. What's your story? What's your passion? What really gets you going—bad or good? Tomorrow is your final chance to introduce your edgy self to friends and strangers. Time is running out!
So be ambitious on a Monday. Procrastinate at work, and submit a presentation to Ignite Phoenix After Hours: the inaugural, SOLD OUT place to be December 3rd. Details are on the Speak page. You don't have a moment to waste.